Company Profiles
It gives us immense pleasure to introduce "ROBINSON SPORTS" as the manufacturer & exporter of quality Sporting Goods being exported to number of countries around the globe.
In 1937 a sapling was planted by our Late Mr. H. S. Jolly, which has grown into a giant tree today by virtue of fair dealings, quality products, strong will and whole hearted dedication of the Management which is driving forward the wheels to success and reputation.
Ours is a Manufacturing and Exporting Company, we have in house manufacturing of Cricket Balls, Cricket Bats, Soft Leather Protective equipment, Boxing Protective Gears, Kit bags, Soccer Balls, Rugby Balls, Volley Balls and Sports Nets.
Recorder Cricket Ball is the First Indian made Cricket Ball Approved by the BCCI in year 1949. Duke of Windsor followed and was approved for use in Ranji Trophy and Duleep Trophy by BCCI in 1958. These cricket balls manufactured by our company have approval for use in first class league matches in Jamaica, Trinidad, Guyana, St. Vincent and St. Kitts.
"RS" Cricket Bats manufactured by Robinson Sports are on the International scene since 1958, Mr. P. R. Umrigar was the first to use now have a large number of India, Pakistan, Sri Lanka, West Indies, USA one day, test, county and club players playing with RS RECODER, RS BLASTER AND RS PLATINUM cricket bats. RS BLASTER, RECODER AND SAPPHIRE Soft leather protective equipment is the choice of players who are on the international scene and regard this most comfortable in wearing with the required protection.
Our RECODER Soccer balls are enjoying the faith and confidence of our customers and these are being used in Inter Island Matches in Caribbean since 1992 and have been used in the semi final for two years in Y and A league in Switzerland.These have been adopted for important fixtures in India as well.
Our other products are very well respected by the customers dealing with Robinson Sports since 1942 without break.
Robinson Sports started with its commitment to QUALITY, has stood by it, "ALL WHO WORK IN RS HAVE CONCERN FOR QUALITY ONLY", this has always paid dividends.
Robinson Sports has won number of awards:
Certificates for 90% plus export of total production for three years.
Certificates for excellence export Awards.
Certificates for Indian Brand Promotion Award.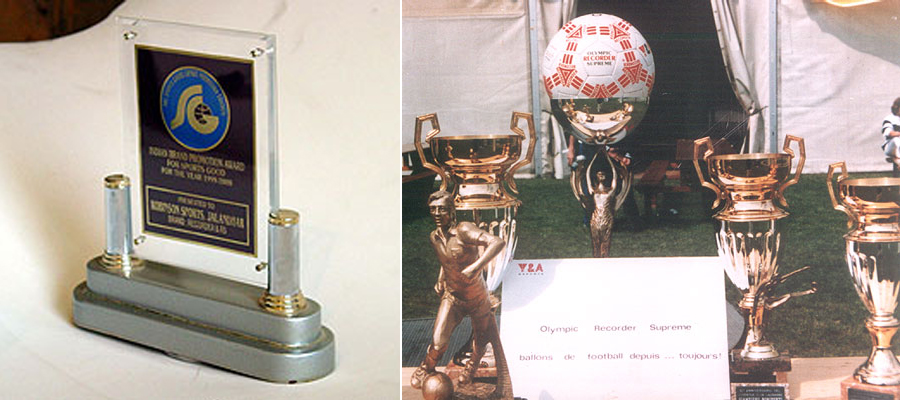 All these from The Sports Goods Export Promotion Council, the body set up by The Ministry of Commerce, Government of India.
Many Testimonials from The Countries to its credit where RS brand has reached and is doing its best to keep the customers happy with quality which is the only satisfaction for a manufacturer. We have now the third generation who understand the meaning of quality and will touch new heights in coming days.
Product Categories
Cricket
Cricket Bats
Inflatable Balls